hen it comes to streamlining daily workloads, to-do list apps work great, but they offer little help when it comes to tracking progress and establishing patterns of productivity. You need something that can keep track of all the tasks you and your team are working on at the same time, all the tasks that are yet to be started, and a complete picture of all the tasks that are completed.
And therefore, I decided to write about the best project management apps with Kanban to try in 2019.
What is Kanban?
Before we head over to my list of the best Kanban apps this year, how many of us know what is Kanban? Where did the term "Kanban" come from? How did it gain so much popularity over the years? Let's find out.
The History of Kanban
Kanban is Japanese for "card". In the late 1940s, Toyota was inspired by supermarket stores relying on their own inventory to restock and not the vendor's supply. This saved time and the store could be back in business in a few minutes.
It was only when the item was nearly sold out that the store's clerks would order more from the vendor.
So, Taiichi Ohno then invented the Kanban production model at Toyota. Each time the line workers needed something from the factory, they would send a Kanban (card).
Say, the line workers need a car bumper. The Kanban would then be sent back to the factory, and it would be attached to the item. Each process that the requested item would have to go through to be delivered would then be mentioned on the Kanban.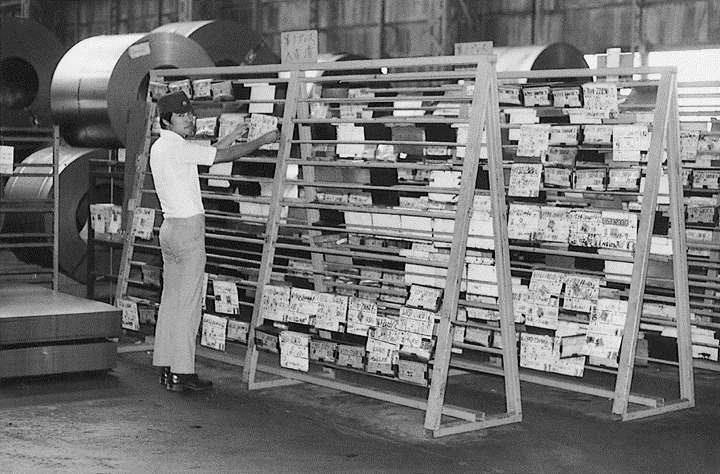 A Kanban would be sent back to the factory requesting a car bumper. First, plastic would be provided, and the Kanban attached. Then, the plastic would be molded into a car bumper. Finally, the car bumper would be painted as per the desired specifications and delivered back to the line workers. All these processes would then be listed on the Kanban attached to the item.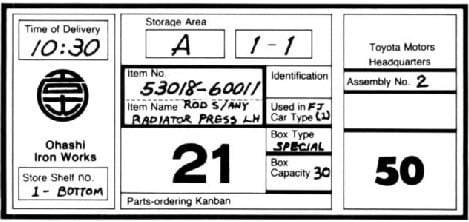 Two things happened because of the introduction of the Kanban model – progress was better visualized, and this systemic approach enabled higher quality control.
An inquisitive committee was formed in 2005 to document the Kanban model, and the deliverables led to influence various thought leaders around the globe.
Kanban was then introduced as a part of Agile project management, and we use it as boards on our screens today.
What are the best Kanban apps?
Let's get started with this roundup.
The 13 Best Kanban Apps | Free Kanban Tools of 2019
1. Trello
2. LeanKit
3. Kanbanize
4. Smartsheet
5. Breeze
6. Taskworld
7. VivifyScrum
8. Blossom
9. Kanban Tool
10. Teamwork Projects
11. Asana
12. ProofHub
13. KanbanFlow
1. Trello – the undisputed king of the best Kanban apps
Rating: 4.8 out of 5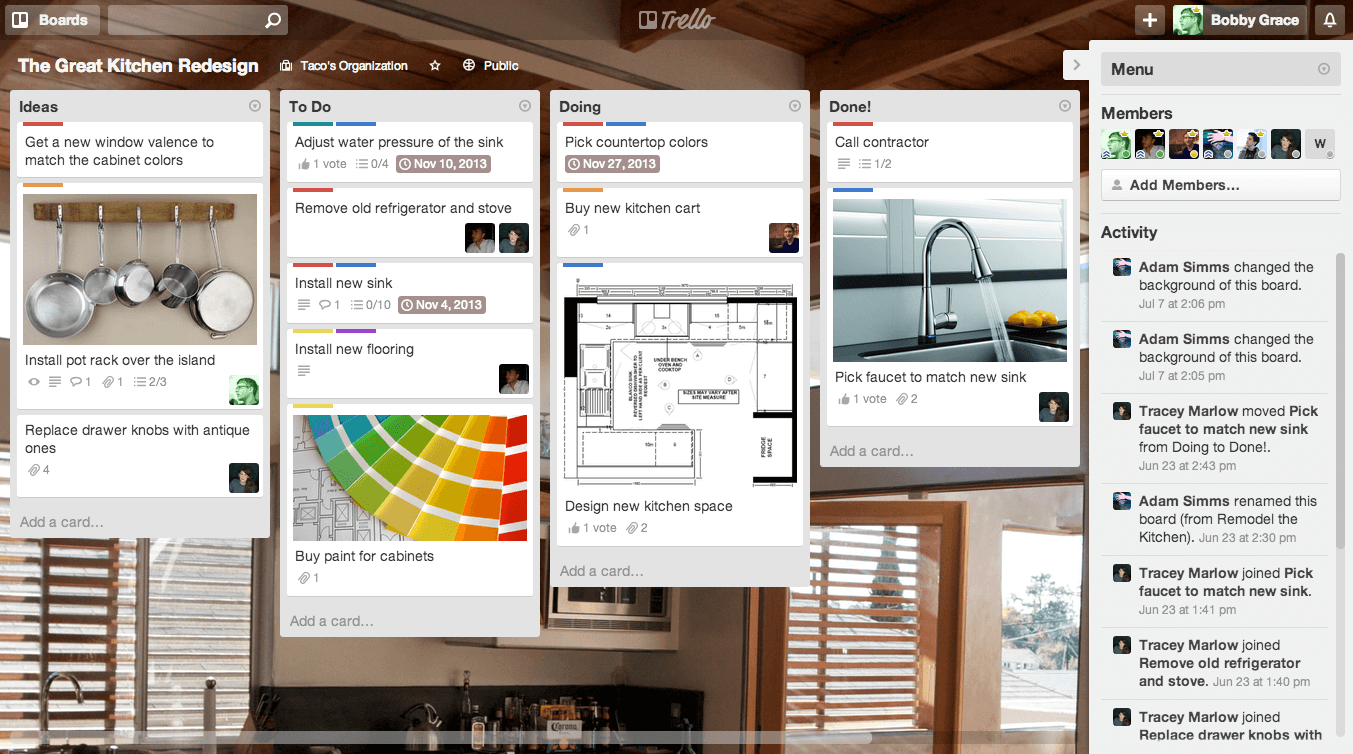 When it comes to Kanban, it's hard to do it better than Trello. Talk about lightweight, ease-of-use, learning curve, performance, availability, simplicity, or even onboarding, scalability, integrations, support, and much more – Trello takes the lead in so many factors.
Trello is lightning fast. Create a board in Trello and the cursor is already blinking on the first column waiting for you to name it. Type and hit Enter and you've named it. Hit Enter again, and Trello will add your second column that you can now give a name. And it keeps going.
Press Add a Card in any of the columns you've created, type a name, press Enter, and your task is created. Press Enter again and a new task is made. Type in a name and press Enter. Whoops, wrong column? No need to erase what you've written.
Press Add a Card on the correct column and your new task will be shifted along with the half-finished text waiting for you to finish naming it.
We're talking peace of mind and comfort when it comes to Trello. And that's why more than 25 million people trust Trello for all their Kanban needs.
Pricing
Trello comes with the following pricing plans:
Free – Unlimited boards, one power-up per board, 10 MB file size limit
Business Class – at $9.99 per user/month, unlimited board and power-ups, 250 MB file size limit, role management, priority support, user management, and more.
Enterprise – at $20.83 per user/month, unlimited everything, SSO and 2FA, enhanced SLA, priority email and phone support, file encryption, custom security review, and more.
---
Rating: 4.7 out of 5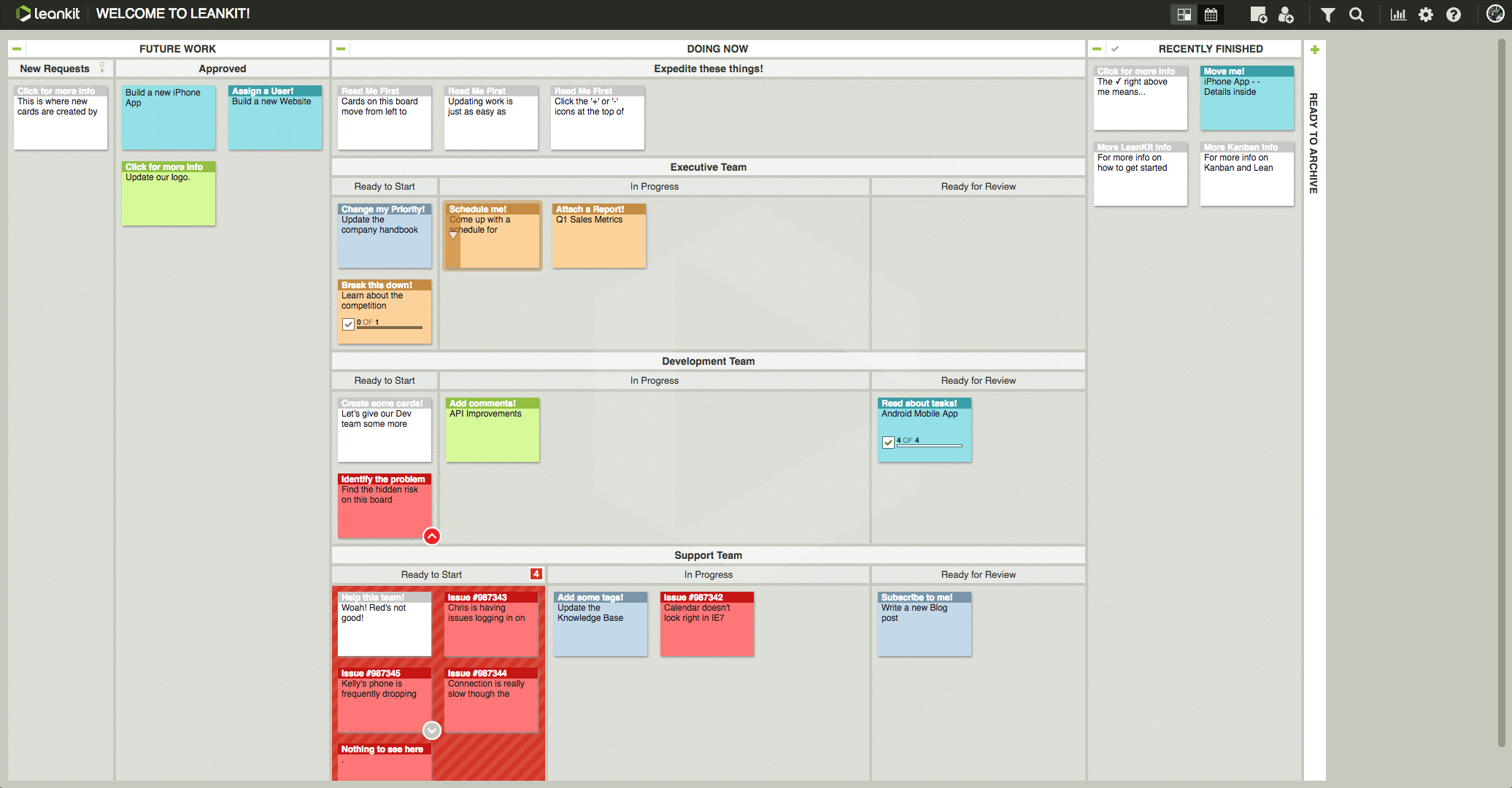 Offering more comprehensive and complex workflows involving the use of Kanban, I believe LeanKit takes the steal for the 2nd spot on this roundup of the best Kanban apps.
You can set sections for each of your lists on a LeanKit board, and then group cards based on similar characteristics. You can set and assign card limits to each of these sections so that no one can add more than the desired number of cards to a scenario.
Because of the enhanced customization of how you use your boards, lists, sections and task groups, Planview's LeanKit is #2 on my list of the best Kanban apps of 2019.
Pricing
Planview LeanKit is available with three pricing plans:
Teams – at $19 per user/month, unlimited boards, template library, lane policies and limits, Lean metrics and reports, LeanKit API
Scaled Teams – at $29 per user/month, custom fields, configurable templates, personalized work views, advanced reporting, SSO and user provisioning API, free trial available
Enterprise – contact sales for quote, Planview Enterprise One integration
Rating: 4.7 out of 5
If you don't want to get into the hassle of integrating third-party apps for building that perfect workflow, Kanbanize is for you!
The tool provides a powerful take on the Kanban concept by coming up with a fresh feature set specifically designed for handling multiple projects simultaneously. Kanbanize is loaded with innovative features, but at the same time provides a clean, clutter-free interface.
Get the best of this Kanban app by making use of linking cards functionality to visualize task dependencies (yeah, no more Gantt charts). The tool gives the ability to define the number of cards each team member can add in a column or a swimlane to identify the amount of work an individual has on their plate.
When it comes to performance tracking, Kanbanize is a real treat for users. Get real time updates by easy time tracking with tasks, and get your hands on some intelligent reports including heatmaps and Monte Carlo simulations for forecasting.
Pricing
Kanbanize provides a flexible pricing model which changes according to add-ons and the number of team members. The plans start from $99 per month, paid annually for up to 15 users.
---
Rating: 4.6 out of 5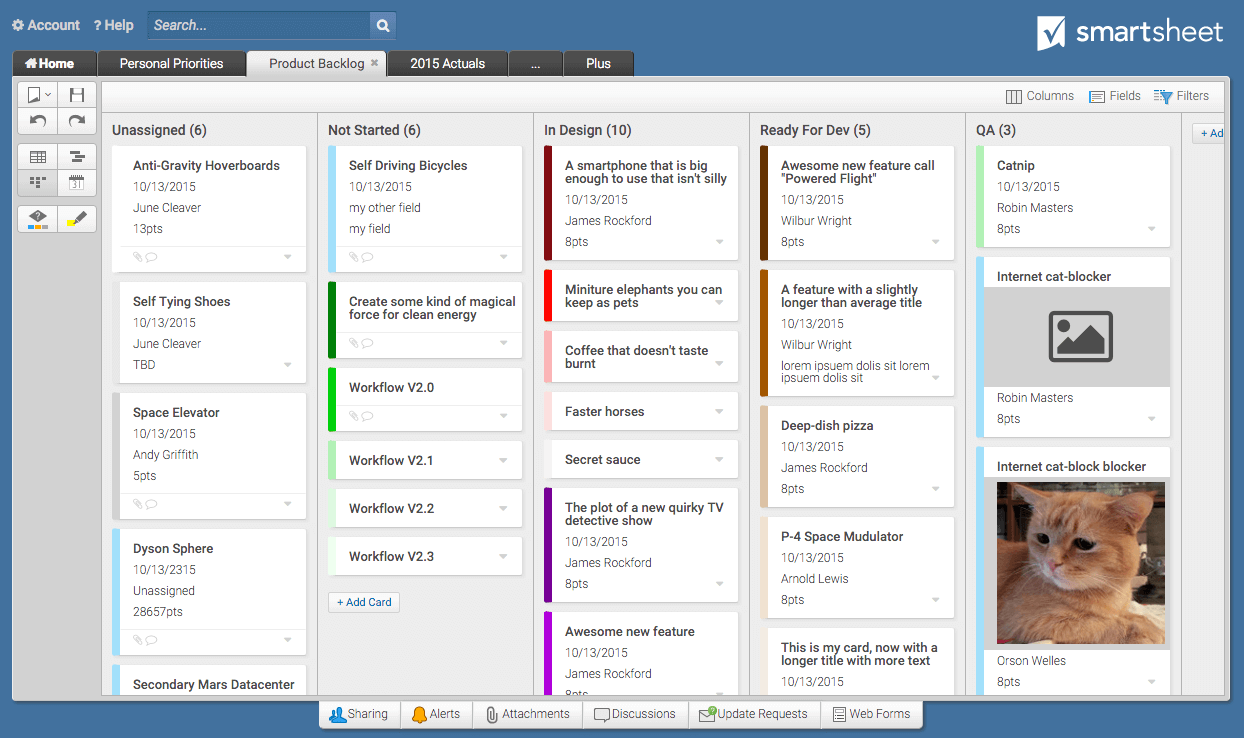 The next one of the best Kanban apps that I got my hands on is Smartsheet. Quite a popular tool with project managers, Smartsheet comes with an array of Kanban and non-Kanban task management features alike.
Easily create card view of your tasks either from scratch, or import from an existing sheet if it consists of specific types of lists. Furthermore, you can create custom filters to keep your focus only on important things. The cards can also be shared with anyone to collaborate on ideas.
The other key features Smartsheet provides are interactive calendar and Gantt views, centralized portal for team communication, third-party application access, and much more.
Pricing
Smartsheet offers two broad categories of pricing plans, which further consists of packages:
1. Standard:
Individual – at $14 per month, multiple views (including card), dashboard, templates, third-party access, automated workflows
Business – at $25 per user/month, data analytics, activity log, dashboard, third-party integrations, and more
2. Enterprise:
Enterprise – pricing not quoted, all Business plan features, along with greater access controls, system and group admin features
Premier – pricing not quoted, all Enterprise plan features, plus premium support, and premium apps
---
Rating: 4.6 out of 5
#5 on my list of the best Kanban apps is Breeze. I have heard good about this app from a few friends and colleagues, and decided to take this one for a spin. Breeze did not disappoint. It's primarily designed for client work, so you can give your clients a holistic view of your team's Kanban board.
There are a ton of nifty keyboard shortcuts that really save up time when working with Breeze. The UI is simple and minimal, with nice shades of white and grey as primary colors and little accents that do not drive attention away from what's important while using the app.
Pricing
Breeze is available with the following pricing plans:
Solo – at $14 per month, 1 user, unlimited projects, unlimited free clients
Freelancers – at $29 per month, 5 users, unlimited projects, unlimited free clients
Small Business – at $59 per month, 12 users, unlimited projects, unlimited free clients
Large Team – at $129 per month, 30 users, unlimited projects, unlimited free clients
Enterprise – at $249 per month, 60 users, unlimited projects, unlimited free clients
All the pricing plans mentioned above are available with a 14-day free trial.
---
Rating: 4.5 out of 5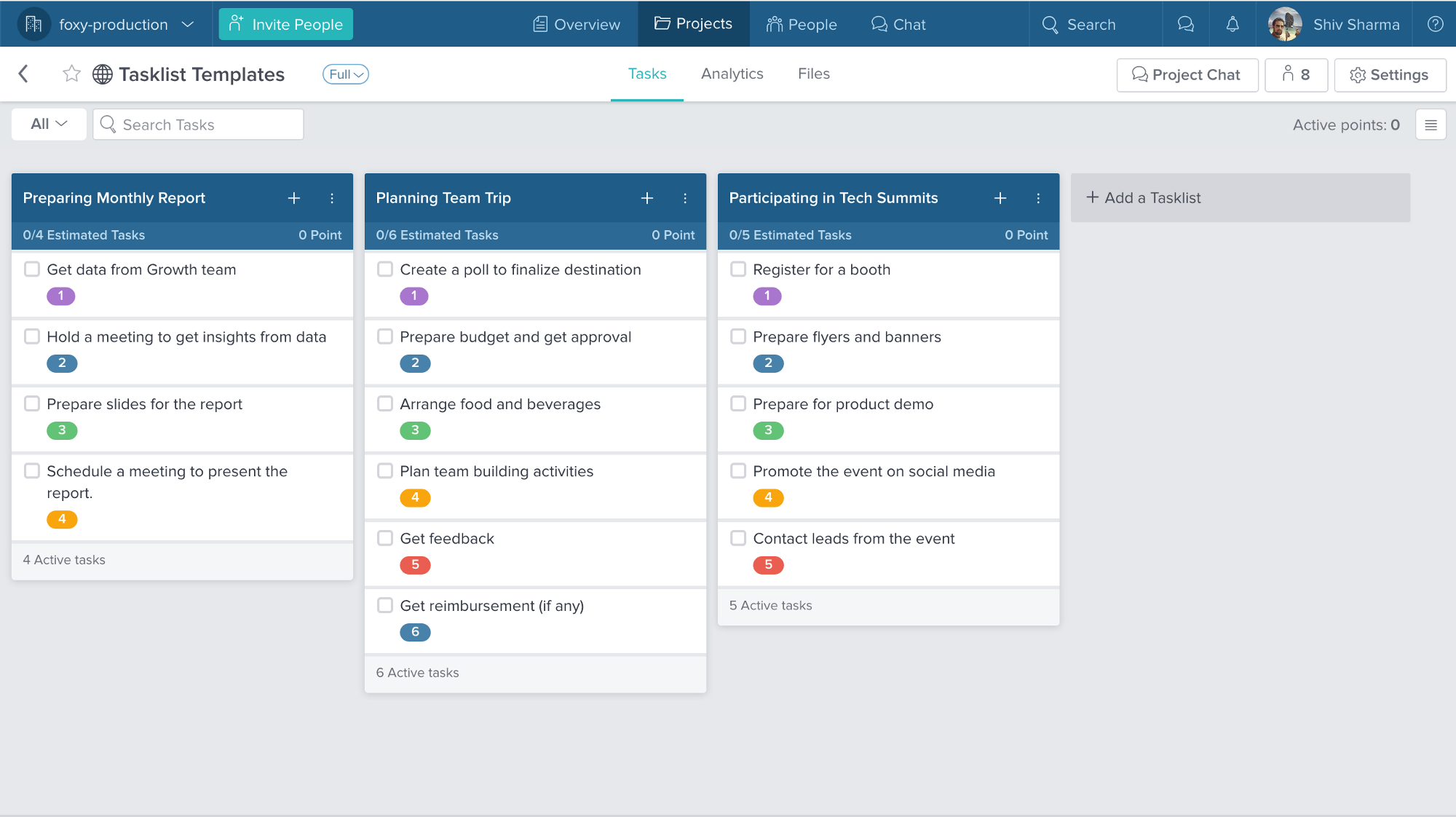 Taskworld is a great Kanban tool and one that is logical. Kanban boards are different projects, and there can arise scenarios where different tasks from different boards are dependent upon each other.
What I liked about Taskworld and why it scored the 6th slot on my list of the best Kanban apps is because Taskworld keeps things minimal. Tasks you create on a board are automatically shrunk down to a single line, so you can have more real estate for as many tasks as you want on your board.
Click on the card and the card's details open. Everything is there, from start and end dates to assignees, followers, tags, time spent which is tracked by a built-in timer for Taskworld, as well as a Location field that can attach the same card to multiple boards and work can be tracked for the same task on different boards simultaneously.
Pricing
Taskworld comes with the following pricing plans:
Professional – at $10.99 per user/month, one workspace, unlimited tasks and projects, unlimited guests, multiple task locations, timelines, chat, @mentions, and more
Enterprise – contact sales for quote, for on-prem or dedicated server deployments, unlimited workspaces, unlimited everything, priority support, dedicated account manager, and more
The Professional plan mentioned above comes with a 15-day free trial.
---
Rating: 4.5 out of 5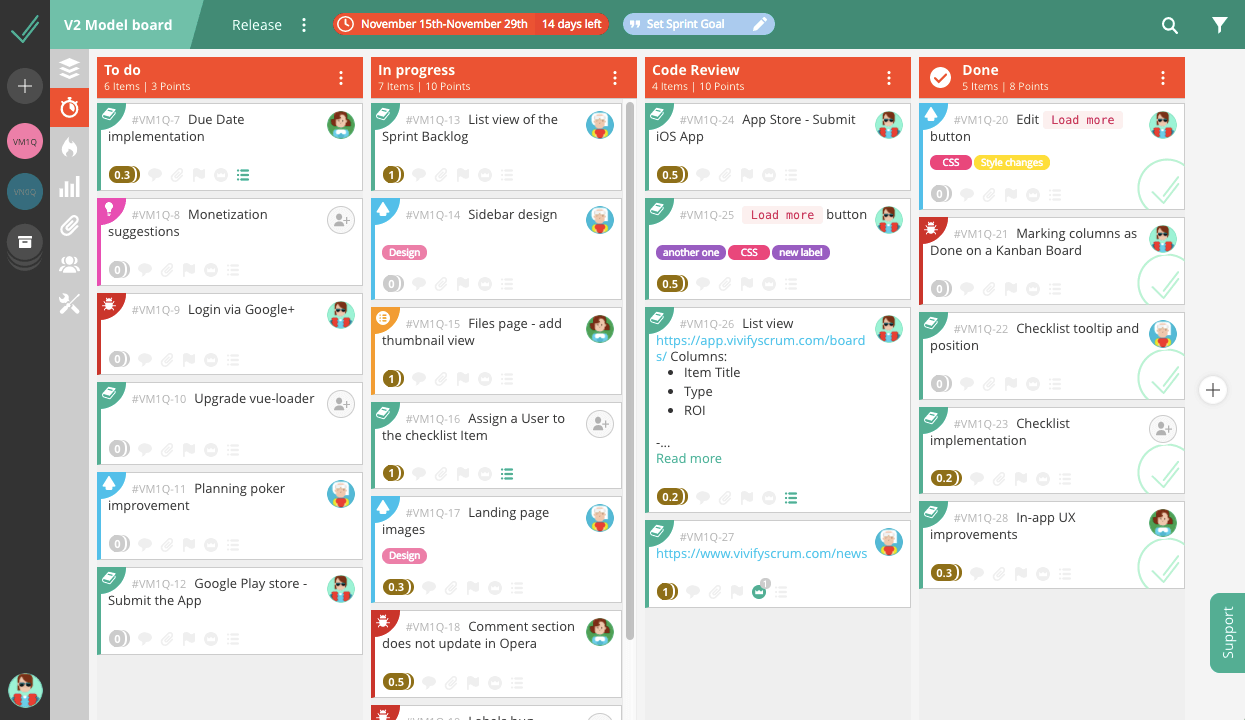 The next tool in my consolidated review of best Kanban apps is VivifyScrum. As the name suggests, the tool targets agile teams by coming up with a perfect balance of Scrum and Kanban features, along with an aesthetically pleasing UI.
Quickly get started by selecting one of the options (Kanban) from the types of board you want to create. These boards are part of a broader category, representing your organization. The action will result in default lists, which you can customize later on according to your preferences.
Set WIP limits to keep an eye on your resources' capacity, without overrunning it. This also helps in identifying bottlenecks efficiently.
The tool comes with time tracking too. Just hit the start button when you start working, pause when you take a break, and stop once you're done. The tracker generates a worklog which lets you monitor your activity to measure productivity in a better way.
Pricing
VivifyScrum comes with following plans:
Free – Unlimited users and items, time tracking, 20MB per board file storage, mobile apps
Premium – at $8 per user/month, unlimited users and items, unlimited file storage, unlimited integrations, much more
Enterprise – custom plan, dedicated account manager, custom features, and more
---
Rating: 4.4 out of 5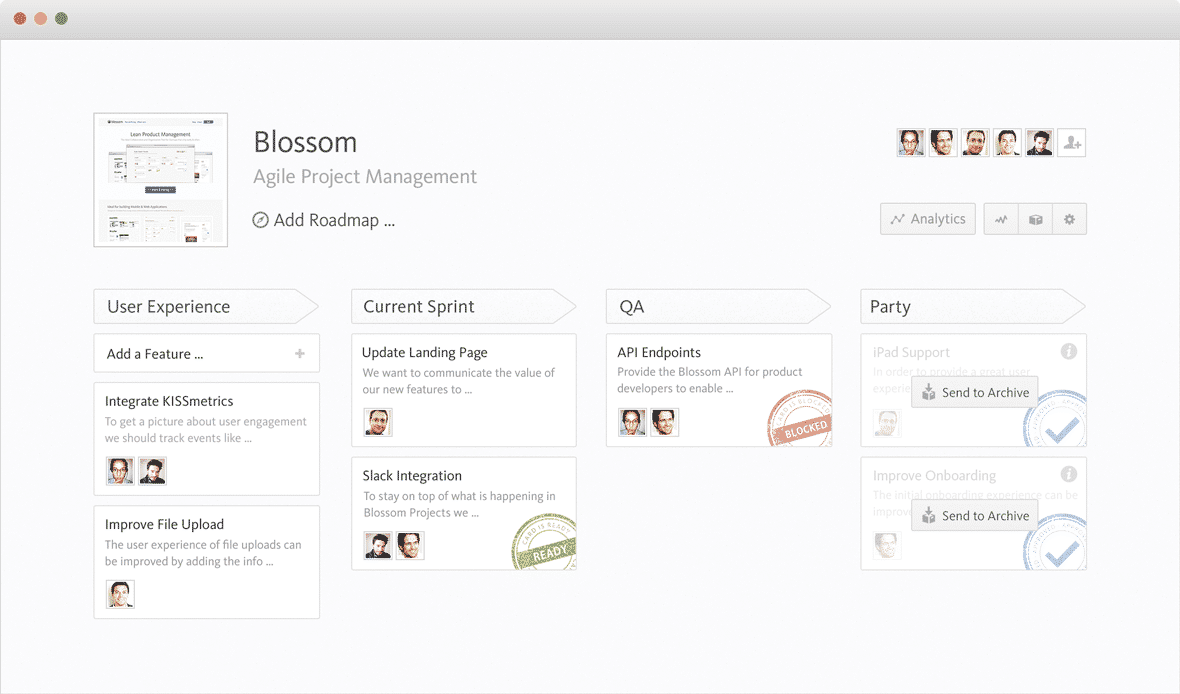 8th on my list of the best Kanban apps is Blossom. While Trello offers me value with power-ups and lightning fast response time to all my work needs, Blossom offers beautiful, intuitive design and is one of the best-looking Kanban board apps available today.
So, Blossom, as the name suggests, is Kanban for a process. Each list on the Kanban board represents a stage of the project. All new tasks must be added to the left-most list, and then they are moved right as the blossom through the project's stages. That's an interesting concept and one that requires a systemic approach to doing things.
Blossom also offers a quick summary of how many cards were shipped during a period, a chart that shows the time taken to complete each card. Blossom also integrates with GitHub, fetching commits so you can track work on code from your boards.
Pricing
Blossom's pricing details are not available, so you'll have to contact sales for a quote by clicking here.
---
Rating: 4.3 out of 5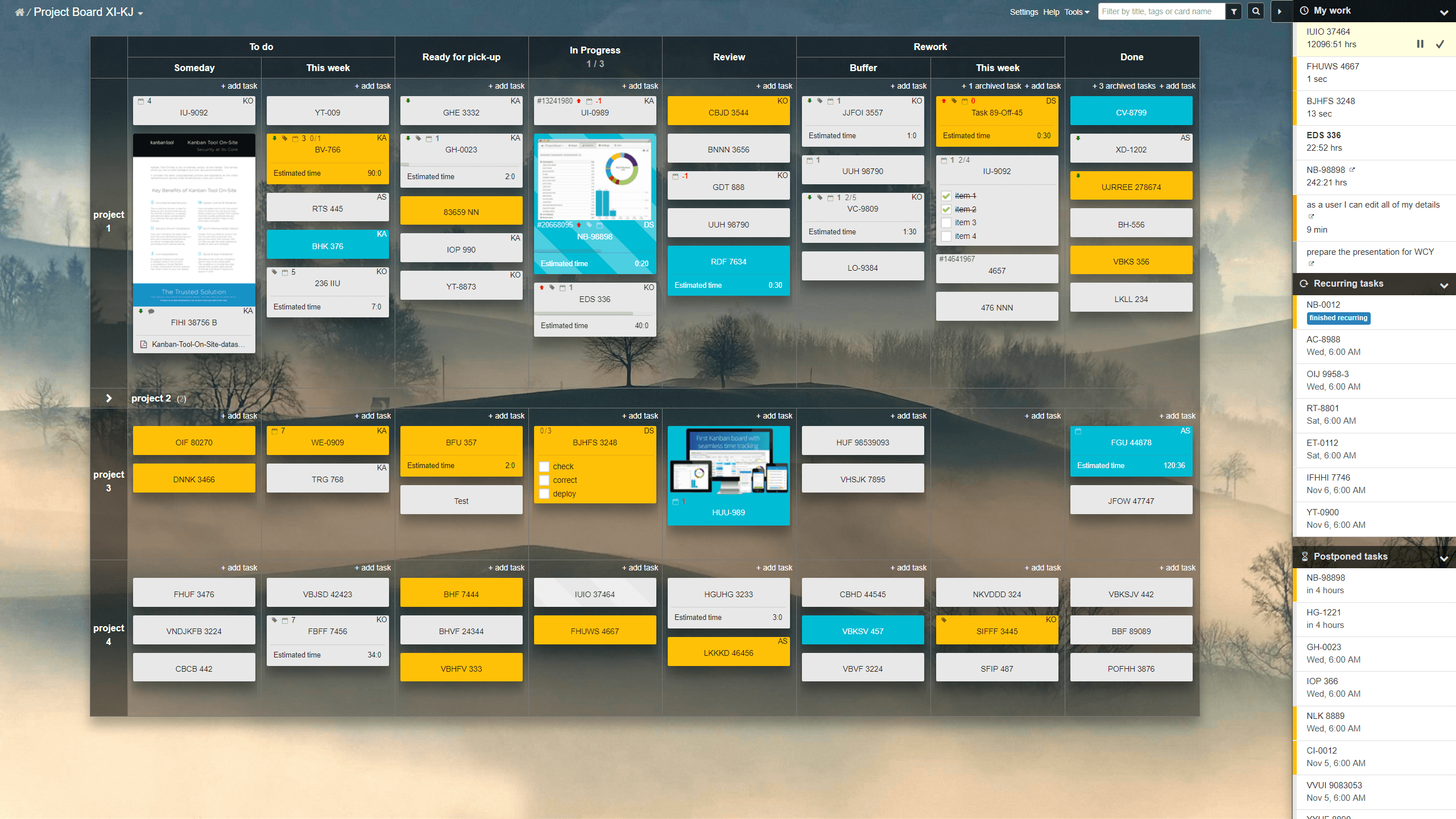 #9 on my list of the best Kanban apps is Kanban Tool. This project management app has a huge array of features with reference to task and project management, time tracking and analytics, as well as collaboration.
Kanban Tool has a beautiful interface to begin with, having options neatly placed on the central Kanban board. You can clone both cards and tasks, which save you time.
Plus, you can even customize the layout as per your needs. For the price it offers, the customer base it has acquired, and the huge list of features it offers, this app is worth a glance.
Pricing
KanbanTool offers the following subscription plans:
Free – $0 per user per month, 2 boards, 2 users, no file attachments
Team – $5 per user per month, unlimited boards and file attachments
Enterprise – $9 per user per month, time tracking and reporting, process automation, unlimited boards and file attachments
---
Rating: 4.3 out of 5
Teamwork Projects is a tool that supports Kanban workflow for a variety of task and project management activities. It is one of the best Kanban apps due to a huge array of project management options it provides including time tracking, reports as well as charts.
You can even set task dependencies to get a clear perspective on task flow. Customizable for a personal touch, it offers many templates and color themes. Plus, if you are a fan of Teamwork Desk and/or Teamwork Chat, you can have it all with one brand of tools instead of juggling between different productivity apps.
Pricing
The following subscription plans are available with Teamwork Projects:
Free – free forever, 5 users, 100 MB storage space, 2 active projects
Pro – $9 per user/month, minimum 5 users, 100 GB storage space, 300 projects
Premium – $15 per user/month, minimum 5 users, 250 GB storage space, 600 projects
Enterprise – contact sales for inquiry, 500 GB+ storage space, unlimited projects
---
11. Asana
Rating: 4.2 out of 5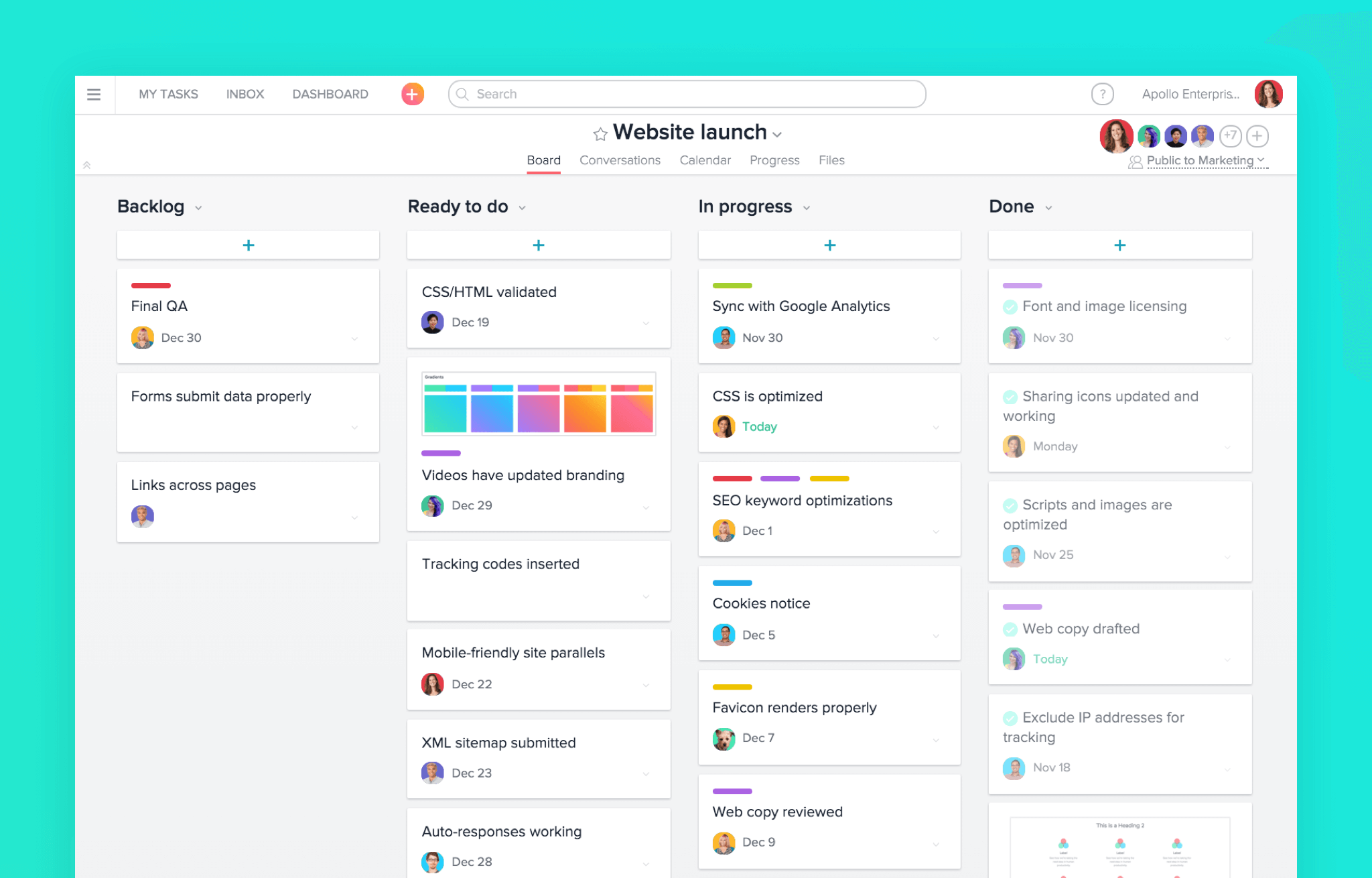 Asana, with its versatile structure and a multitude of options, also makes it to this list of best free Kanban tools. Manage your workflow with this top Kanban app through project timelines and Gantt charts, customized fields, dependencies and color-coded project timelines.
Asana helps in easy collaboration between team members via tagging and through comments, 'likes' and 'follow' along with tagging. You can work with multiple teams at a time with different settings. Plus, with notifications including email updates, Asana ensures you do not miss out on any information.
Organize and prioritize your workflow in a jiffy with simple commands and a clean interface. Asana ranks #11 in this roundup for the best Kanban apps of 2019.
Pricing
Asana comes with the following pricing plans:
Basic – Free forever
Premium – at $9.99/user/month billed annually ($11.99/user/month)
Business – at $19.99/user/month billed annually ($23.99/user/month)
Enterprise – contact sales for a quote
---
Rating: 4.1 out of 5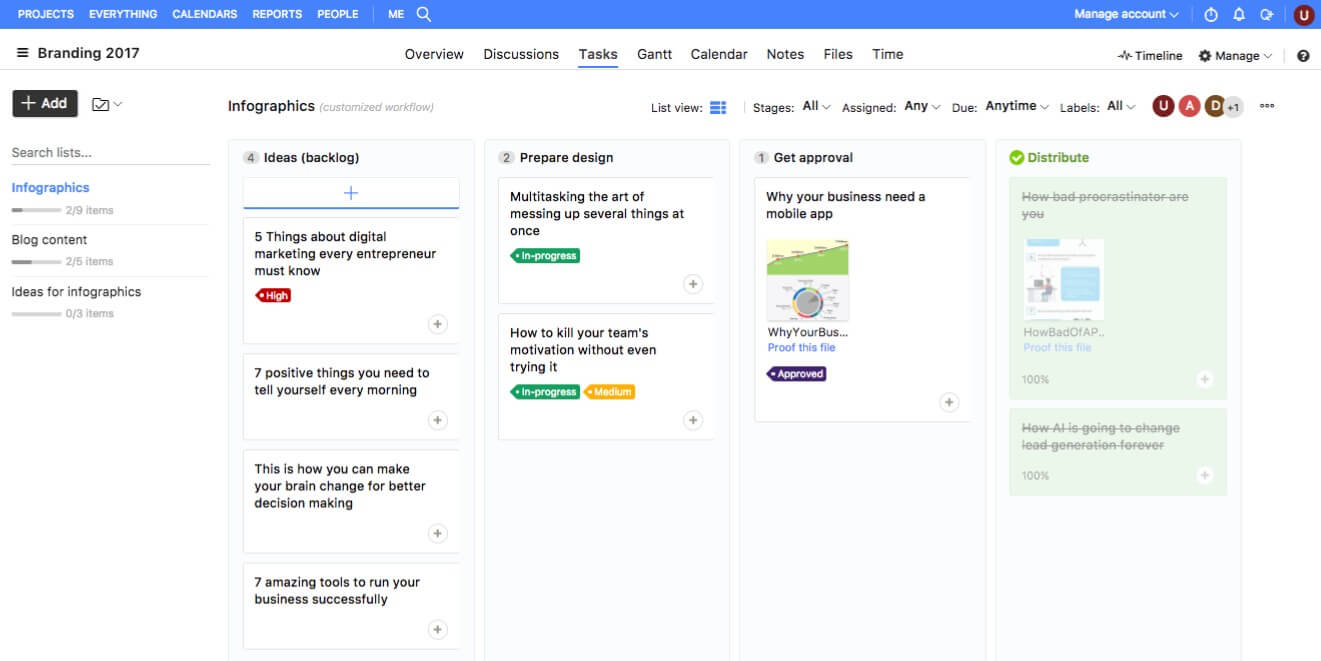 All in all, ProofHub can be one of the best Kanban apps you can consider using right now.
Aside from the core Kanban functionalities, ProofHub provides a decent toolset to help you move your way through your workflows without losing your mind on the way. Identify stages to easily create a custom workflow and have greater control over what needs to be done during each stage.
ProofHub provides simple time tracking abilities too. Use a time tracker to monitor the used-up time for each task, or make manual time entries to keep track of team productivity. This recorded data transforms into a timesheet which you later use for multiple purposes.
Pricing
ProofHub provides easy pricing plans:
Essential – $45 per month (billed annually), core features, along with 40 projects, unlimited users, and 15GB storage
Ultimate Control – $89 per month (billed annually), unlimited projects, 100GB storage, unlimited users, and all advanced features
---
Rating: 4.1 out of 5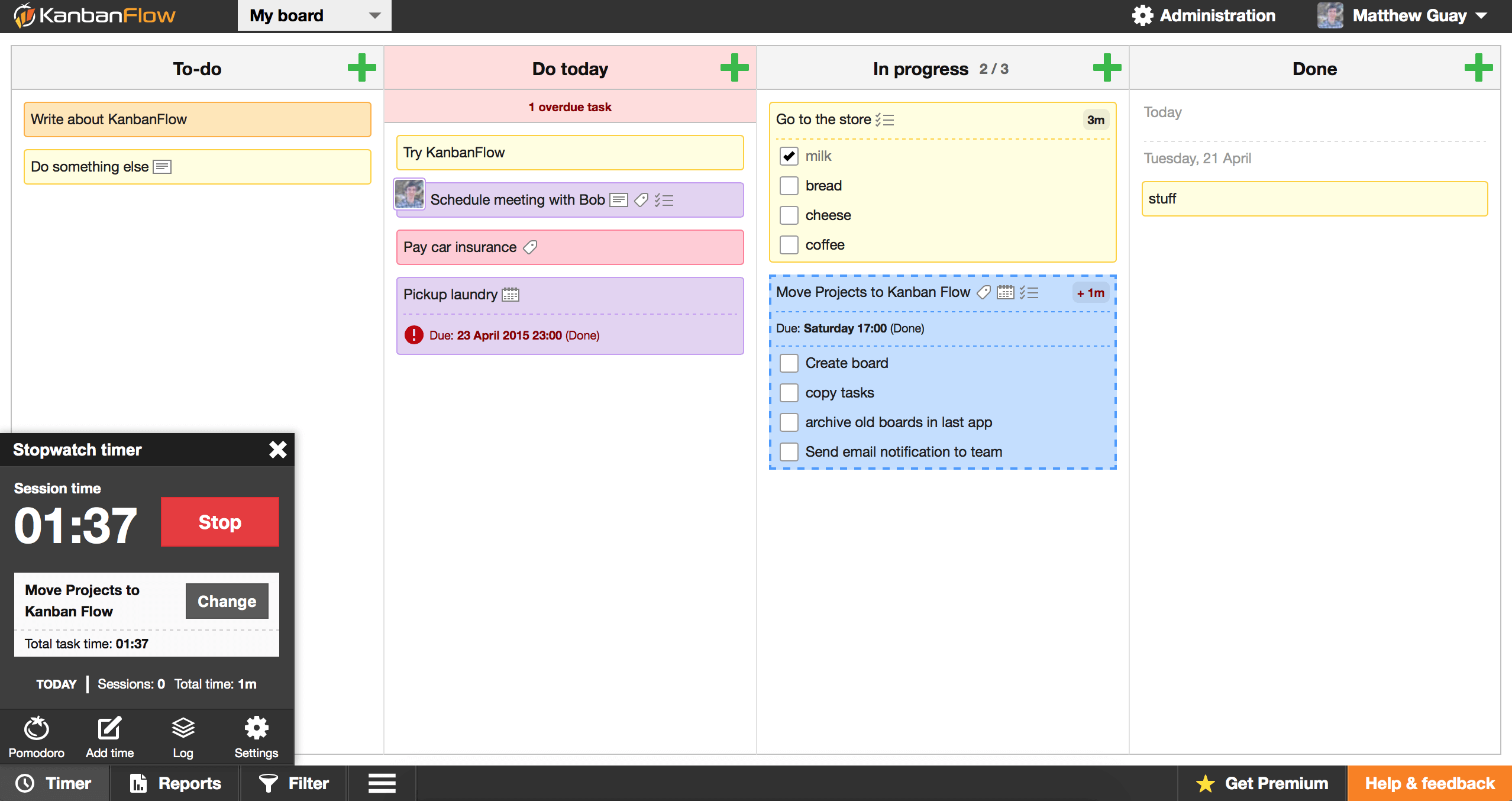 KanbanFlow is a free Kanban app with task and project management options placed efficiently into three main modules. Instead of spreading hundreds of options across the interface, KanbanFlow makes life easy with a clean interface.
The Kanban board holds collapsible columns of cards representing tasks, so you can fold a card when not in need. It offers all the core features any team would require including task management (with subtasks, recurring tasks and dependencies, various charts as well as customizable reports.
Plus, it lets you track time spent on tasks, so you can forecast time estimations for future projects. It encourages the Pomodoro technique for focused work, but you can set the timer as required. With a very affordable paid plan for upgrade, KanbanFlow will catch your eye.
Pricing
Kanban Flow gives you two pricing plans:
Free – Free forever, unlimited tasks and boards, time management, standard support, 2 permission roles
Premium – $5 per user/month, advanced reporting and export options, priority support, 4 permission roles